No one wants to miss out on a day at the beach, especially if you have a canine companion. Luckily there are plenty of dog-friendly beaches in Los Angeles County that will let your pet join you for some fun in the sun!
Here is a list of the top 10 that also provide ample amenities and facilities for their furry guests such as water fountains, trash bins, shaded areas, etc. So grab your towel and your pup, then check out the list below for a beach day with man's best friend!
*Keep in mind, rules change all the time. So it's best to double-check with the local beach's website or phone number before heading out with your furry friend.
Rosie's Dog Beach
Long Beach might be a bit of a drive from Los Angeles city proper, but it is well worth the trek for dog lovers. In addition to being the only beach in Los Angeles County that allows dogs to run free all year long, it also provides doggie water fountains, trash cans, and a few other amenities for pets and their owners.
During the summer months, Rosie's Dog Beach is full of people and pups from morning to night, but it's also a place for your four-legged friend to frolic off-leash with other canines. The city has even provided signs for Fido's convenience that designate with paws where he can go.
Location:  5000 E. Ocean Blvd, Long Beach
Hours of Operation: 6 am – 8 pm
Rules: Dogs are allowed off-leash to swim and play in the water. Keep your pet under voice control and clean up after him.
Huntington Dog Beach
Located in the northwest area of Huntington Beach, dog lovers can enjoy this 1.5 mile stretch of sand off-leash. For the humans, you'll find public restrooms, grassy area with picnic tables, designated parking, as well as drinking fountains for both you and your furbabies.
Huntington Dog Beach also features a dog-washing station where you can wash off Fido after he's been in the water or picked up a less-than-desirable smell.
Location: 100 Goldenwest St, Huntington Beach
Hours: 5 am – 10 pm every day
Rules: Be sure to maintain control of your dog and keep it leashed until you reach the sand. It's important to note that the city ordinances require dogs to be leashed, however, on this beach, it's not generally enforced. As always, proper disposal of dog waste is required.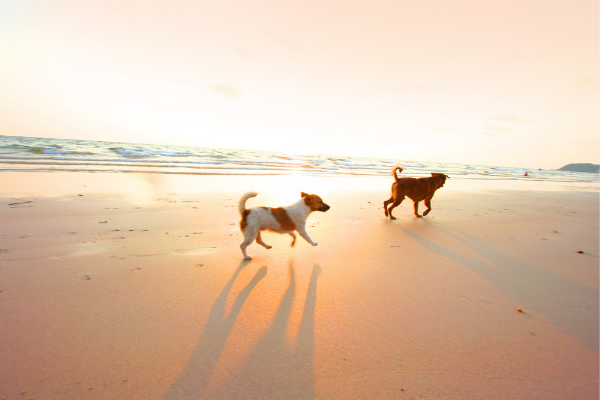 Staircase Beach
Located in the Point Dume area of Malibu, this private dog-friendly beach offers incredible views and a laidback environment where you can let your pooch run free and play in the water. There aren't any public facilities available, so be sure not to forget your own doggie bags.
Staircase Beach features a naturally steep entry into the ocean which means the current can be swift, so be sure to keep an eye on your fur baby.
Location: 40000 Pacific Coast Hwy, Malibu
Hours of Operation: 7 am – 5 pm daily
Rules: Dogs are allowed on the beach only on a leash.
Point Fermin Park Beach
While pups aren't allowed on the actual beach here, leashed dogs are welcome in the park, so it is still a great place to enjoy the ocean views with your companion.  The park is home to Point Fermin Lighthouse, a historical navigational light built in 1874. The park also provides plenty of shade, walking paths, outdoor picnic areas,  and seating areas.
Location: 807 Paseo del Mar, Los Angeles
Hours: 6:30 am – 10:00 pm
Rules: Dogs must be leashed at all times. Dog waste must be properly disposed of immediately by the owner. If any dog-related events happen, such as a bite or injury, owners must exchange tag information and phone numbers.
Leo Carillo State Park
Dogs are allowed here north of Lifeguard Tower 3. They are not allowed on any of the backcountry trails or south of Lifeguard Tower 3. This park offers 1.5 miles of beach, camping (dogs are also allowed in the campgrounds), tidepools, coastal caves, and giant Sycamores, creating beautiful views.
Leo Carillo State Park also features hiking trails that go up into the hills for more stunning views of the coastline, as well as deep canyons.
Location: 35000 West Pacific Coast Highway, Malibu
Hours of Operation: 8 am to 10 pm (gate is locked from 10pm to 8 am)
Rules: Dogs must be kept on a leash, and have to stay in the designated areas.
What About Dog Parks In The Los Angeles Area?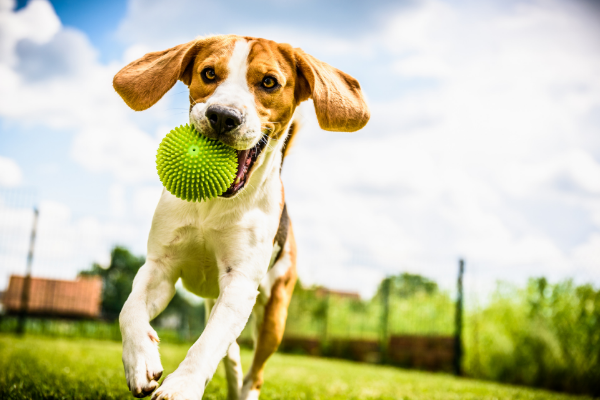 Beaches are nice, but what if you don't want to get your furbaby all sandy and salty and would rather a nice grassy play area? Try out these dog parks!
These are just a few of the many dog-friendly places around Los Angeles. If you have a pup, be sure to check out these spots and enjoy a day out with your furry companion!
We've got a lot more to tell you about the LA area, too.
If you're looking to relocate within or to Southern California, give us a call! We can answer any of your questions about the area and share our knowledge and expertise with you.
Contact us here or send us a chat on our website!