If you are searching for the balance between a beach lifestyle and the amenities of the big city, Santa Monica could be your best bet. Whether you are visiting, living in, or planning to move to this popular California town, numerous things to do in Santa Monica will keep you occupied and entertained, day or night. 
This southern California destination is not just for singles who want to explore the beach, either. It gives everyone a chance at some fun and excitement with many family-friendly Santa Monica attractions for all ages.
23 Fun Santa Monica Attractions 
The town of Santa Monica did not grow to over 93,000 residents by being a boring, everyday location in Los Angeles. During daytime hours, this seaside destination swells to approximately 230,000 people, including tourists, employees, residents, and shoppers. These numbers speak for themselves, showing how favored the numerous Santa Monica attractions are. 
If you are searching for what to do in Santa Monica, these 23 attractions are sure to keep you entertained. 
1. Annenberg Community Beach House
This attraction is open to the public to enjoy swimming, a playground and splash pad, and a gallery. This historic facility sits on an old mansion site with a repurposed pool.
his natural wonder is a fantastic place to enjoy hiking, mountain biking, horseback riding, or exploring nature. Spend hours or days at a campsite within the park. 
3. Santa Monica Farmer's Markets
There are several farmer's markets to choose from in the Santa Monica area that offer local fresh fruits and veggies grown without pesticides. 
4. Santa Monica Place
This outdoor shopping mall houses many specialty boutiques, catering to individuals who love to shop. It also includes a cooking school that hosts classes.   
5. Douglas Park
If you need a playground for your kids or a lawn bowling green, Douglas Park houses various activities. Tennis courts, reflective pools, and fly fishing are typical attractions. 
6. Third Street Promenade
Third Street Promenade delivers an exceptional shopping atmosphere with sculpted landscaping and frequent street performers in an open-air shopping mall. 
7. Pacific Park
Kids and adults alike love experiencing the rides and scenery from Pacific Park, located on the Santa Monica Pier. Try the Ferris wheel or roller coaster for some of the best views. 
Aiming to educate visitors and locals on the aquatic life local to the area, Heal the Bay Aquarium showcases exhibits and hands-on activities. 
9. Tongva Park
With an amphitheater, picnic and playground areas, and a splash pad, this park is a welcoming solitude for many from the bustle of the popular attractions in Santa Monica. 
10. Palisades Park
This is a quieter park away from the pier, where you can take in a breathtaking rose garden and the many sculptures within the area. 
11. Santa Monica State Beach
With 3 ½ miles of shoreline, this beach is home to the Original Muscle Beach and an International Chess Park. Soft sand and ideal weather make it perfect for relaxing.
12. Biking in Santa Monica
There is an abundance of biking trails in the area that will take you from downtown to the outskirts. Whether you use an electric, a recreational, or a mountain bike, you are sure to enjoy the sights while pedaling around. 
13. The Santa Monica Pier
This infamous landmark is a must-see when in the area. It is home to several popular amenities and gives you a terrific view of the area.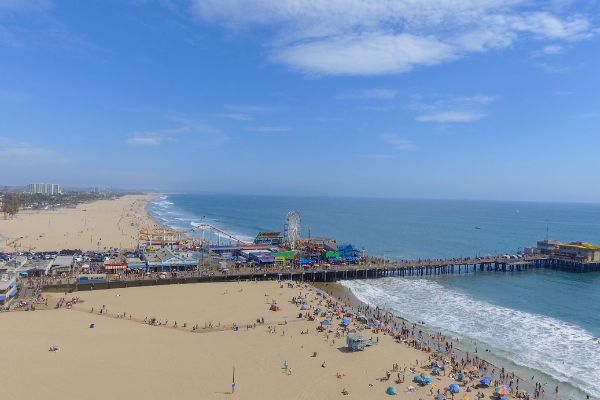 14. Clover Park
This almost 18-acre park hosts picnic tables, baseball diamonds, soccer fields, tennis courts, playgrounds, and more. Enjoy the day with family at this well-equipped park. 
15. Santa Monica Stairs
A sight to see, the Santa Monica Stairs consist of two outdoor stairways to make up 170 total steps with 110 feet of elevation. They sit within multi-million dollar properties, giving an amazing scenic view. 
16. Will Rogers Park
This 186-acre state park sits within the scenic mountains, giving visitors exceptional views. Enjoy hiking trails, horseback riding, picnic sites, and historical tours of the ranch house. 
17. Santa Monica's Main Street
A popular location for many, Main Street is only a few blocks from the beach. Enjoy shopping or experiencing the many food vendors located here. 
18. Santa Monica Playhouse
Enjoy live theatre or participate in one of the many workshops the Playhouse hosts regularly. Rent the space or book a birthday party for a unique experience. 
19. Harvelle's Santa Monica
Harvelle's is a famous music club featuring blues, jazz, hip-hop, burlesque, and more. It is a well-known active nightclub in the Santa Monica area for over 80 years. 
20. The Cove Skatepark
The Cove Skatepark offers 20,000 square feet of bowls, ramps, stairs, and more for youngsters or those young at heart. For avid boarders or beginners, the Cove is a terrific spot to build your skills. 
21. Camera Obscura Art Lab
This community arts space is ideal for viewing pop-up gallery exhibits, participating in workshops, and meeting with other artists. Find a new perspective by attending various artist events. 
22. Santa Monica Swim Center
You can participate in lessons or enjoy swimming a few laps here in one of the open-air pools. Take lifeguard training or fitness classes here throughout the year. 
23. Trapeze School of New York
Try your hand at trapeze or other aerial classes to add some fun and entertainment to your day. See if you have the skills to run off and join the circus.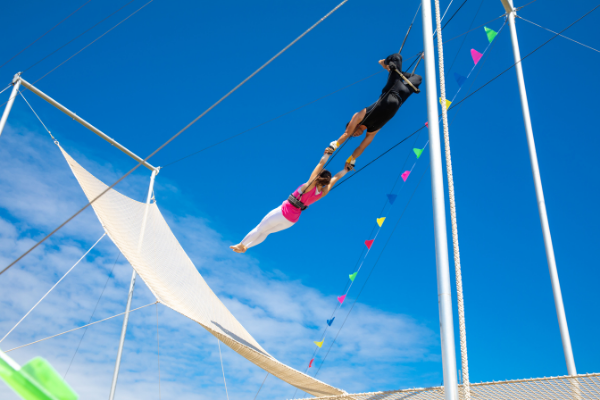 Don't Miss Out on Things to Do in Santa Monica 
There is no excuse to miss out on these 23 fun things to do in Santa Monica. With something for everyone, this bustling seaside town is sure to provide ample entertainment whether you are visiting or looking to relocate permanently. 
Santa Monica residents love many of its prime features, including sustainable living and the exceptional quality of life. Looking to make the move? Let Fisher Real Estate help guide you to the areas of Santa Monica to suit your needs best and have you enjoying this bustling coastal town in no time!