When you think of the California lifestyle, you can't help but think of sunshine, sports cars, and backyard swimming pools. Swimming pools have been popular here since Darryl Zanuck threw his first swimsuit-clad celebrity cocktail party in the 1930s. They'll never go out of style in a place famous for its sunshine and laid-back attitude!
So, maybe you're looking to buy a house with a pool and need to know how much more you'll pay than you would if it didn't have one. Or perhaps you're considering the risks and rewards of building a pool in your existing house, and what it may do to your home's value when you go to sell.
Here, we'll look at both of these perspectives. Whether you're on the buying side, or the could-be-selling side, read on to find out how much value a pool adds to a home's appraisal.
Then we'll even dive deeper to find out if that added value is worth it.
The Value a Pool Adds to a Property
In short, a pool can add quite a bit of value to a property in this area of the Golden State. The LA Times revealed that properties with pools garnered an average of $95,393 more than comparable homes without them in the LA area. In Orange County, a pool can add $55,885 to the value of an average home. 
There are a few drawbacks to pool ownership, though. It is important to consider the cost of maintaining the pool and ensuring that it is safe. While the maintenance may be considered by many to be the only drawback to owning a pool, it is definitely an important one. We'll get to more on that next.
Is A Pool Worth The Added Home Value in California?
There are many factors to weigh when you're deciding whether or not you should purchase a home with a pool (or build a pool in your existing home). To some people, the costs associated with it can negate some of the potential benefits of the added value. 
Here are some of the costs to look at.
Pool Maintenance Costs
Pools are expensive to maintain. If you live in a home with a pool, you are likely have to spend a good amount of money on cleaning the water, heating the pool, and maintaining the pool area.
Keep in mind, in California, we don't necessarily have an "off-season" for the pool, so you can expect to pay for its maintenance all year long.
An appraiser will include the pool when they are deciding on the value of a home, but obviously, they do not include the expense of pool maintenance. However, a buyer may take the cost of pool maintenance into consideration if you choose to add a pool to your existing home and then sell.
The average cost for pool maintenance is about $80 to $150 each month, which can equate to up to $1,800 per year. This does not include safety features that will need to be installed as one-time fees when first building a pool or bringing an existing pool up to code.
Pool Safety Feature Costs 
A pool must have certain safety features to be legal in the state of California. Home inspections are required here just as they are in most states. If you have a pool, the inspector will look for the following safety features:
An enclosure separating the pool and any spa area from the home.

Mesh fencing with a removable and self-closing, self-latching gate that can be locked with a key.

A safety cover for the pool.

Exit alarms on any doors in the home that lead out to the pool area. 

A self-latching device on doors that lead out to the pool area that is at least 54 inches high.

An alarm that signals if there is an unauthorized entry into the pool.
While not all of the safety features above need to be installed, it's best to check with your local government to see how many need to be done and if any policies have changed that would make your pool no longer up to code.
Making Sure the Pool Is Up to Code
Before you buy a home in California, you should make sure that it has recently had a successful inspection. A pool inspection itself can cost anywhere from around $120-$370 in California. If it does not pass inspection, you will need to consider the cost of bringing it up to code, and the fines associated for not bringing the pool up to code.
It's important to note that if someone injures themselves in or around your pool, they can always sue you. However, if you take all of the proper precautions, they are less likely to be successful. For example, if someone wanders onto your property and falls into your pool that is not up to code, they have a much better chance of winning their lawsuit. 
And of course, if you bring your pool up to code and keep it that way, the resale value of the home will increase greatly because the next owner will not have to make any modifications.
Should I Buy A Home With A Pool or Get One Installed?
Unless a pool is in terrible condition, it is best to buy a home with a pool already installed, rather than buy a home and install a pool after. 
The cost of pool installation will depend upon the type of pool you get. Above-ground pools are much less expensive than those that are inground. However, above-ground pools will not add value to your home that inground pools will, and in some cases, lower the home's value.
An above-ground pool will cost between $1,500 to $15,000 and an inground pool may cost anywhere from $25,000 to $80,000. 
The material out of which you make the pool and its size will also factor into the cost. You will have to decide if you want your pool to contain freshwater or saltwater and if you want to build a deck. These are other considerations that will add additional costs to building a pool.
The Benefits of A Pool Home When You're Selling 
Although there are costs associated with pool ownership, people seek homes with pools because of all the many benefits they offer – and they always will. While there are some benefits to a pool that may not be included in an official appraisal, they are still valuable to a buyer if you're concerned about the resale of your home.
The most obvious benefit is that your home will look great! Both a buyer and an appraiser will absolutely consider the way a pool looks, the material it is made out of, and the extra features into consideration when valuing a home.
A well-kept pool will certainly increase the resale value of any home. There are even a few extras you can add to your pool to make it look fabulous and add additional appeal if you plan to sell:
Natural rock framing the pool area

Beautiful lighting 

A water sculpture

Spa Spill Overs

Water Falls

Grottos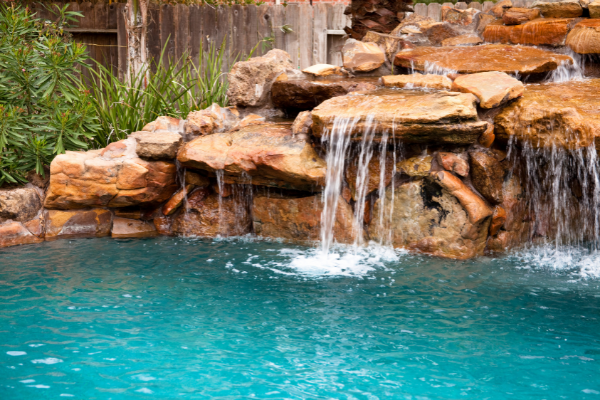 If you're on the buying side and looking at pool homes, make sure your realtor knows if you not only want a pool but one that will have amenities that add to its value. 
How Fisher Can Help
Fisher Real Estate is staffed with a team of licensed and experienced realtors who can assist you in finding the perfect home. We are California real estate experts who know just what to look for in a home, a neighborhood, and a pool.
We can find you a home with a well-maintained pool that has all of the extras you desire. We are well acquainted with the laws of the state and will make sure that your pool is up to code before you move in.
Whether you are looking for a home to live in, rent out, or sell, a pool makes a fun and stunning addition to any home. When you follow the law and beautify the pool area, you will find that a swimming hole is enjoyable, profitable, and relaxing.